Free ground shipping for all U.S. orders!
Engrained In History
Waldan International (Waldan Watches) is a private, family owned, American watch brand based out of New York, NY. The company was established in 1979, by Oscar Waldan, a polish watchmaker who learned about the art of watchmaking in the Buchenwald Concentration Camp during WWII and is now run by the 2nd generation, his son Andrew. For over 40 years, Waldan Watches have sold through Tiffany & Co., Tourneau, Neiman Marcus, Asprey, Wempe and are known for their exquisite craftsmanship, high level of detail and affordability.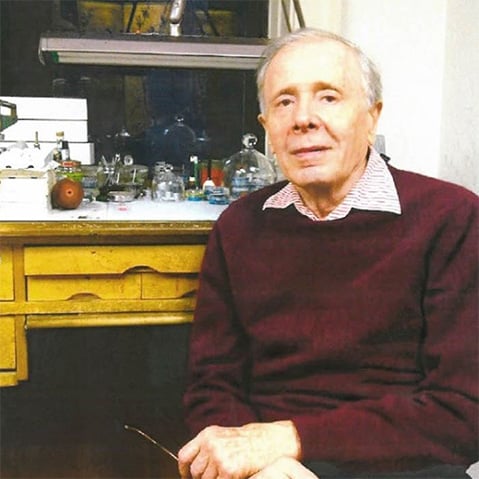 Oscar Waldan
1923-2018
His memory and legacy will continue on, and his incredible story, history and contributions to the watch industry will never be forgotten.
ICON. FATHER. HOLOCAUST SURVIVOR.
Oscar Waldan was born in the early 1920's in Dobczyce, Poland. His passion with luxury timepieces started as a young lad when he tried to clean and repair his father's pocket watch on his own.
"Without anyone's knowledge, I disassembled the watch and made diagrams showing how the parts fit together." – Oscar Waldan
Unfortunately, before being able to explore this spark of passion further, World War II commenced and Poland was the first country to be invaded by Nazi Germany. Waldan endured numerous hardships over the next coming years, persecuted for his religion and imprisoned at the Buchenwald concentration camp in Germany and later in the Theresienstadt concentration camp in the Czech Republic. The time spent in the concentration camps went on to influence the rest of his life, as Waldan developed a special rapport with a watchmaker there by the name of "Manek". This man was a favorite of the Nazi guards due to his ability to repair their watches, and by apprenticing Oscar, the soldiers allowed him better treatment as well, which was one of the factors that aided in his survival from the horrors inflicted upon him on a daily basis.
Upon liberation, Waldan began anew in Switzerland. He had lost everyone and everything and decided to further develop his knowledge of watches and watchmaking. Starting off in the United States at a small watch repair shop in New York, Waldan eventually matured and went to study horology in Switzerland and Germany. After years of further honing his skills, knowledge and experience, he then proceeded to work for some of Europe's finest watchmakers. In 1953, Waldan took his first job at Charles Tissot in Le Locle, Switzerland. Waldan, an ambitious worker, soon began submitting his own watch designs for Charles Tissot in LeLocle, Switzerland. There, he worked under famous watch designer Roger Haas and his first creation was the Tissot Navigator, an automatic watch that displayed 24 time zones around the world. The design was widely accepted, being deemed "attractive" and simple to read. After his time working for Tissot, he proceeded to work with the Holzer Watch Company as a salesman, covering 12 northeast states of the United States including New York City. With his successful sales record and acclaimed expertise increasing at such a fast pace, he proceeded to quickly climb up the ranks and went to work for Universal Geneve in 1959 as a Sales Executive and Vice President of merchandising and styling, and later played a hand in opening prestige stores for Tiffany, Cartier and Van Cleef in those territories. There, Waldan had the opportunity to work with master designer Gerald Genta, with whom he developed a special rapport and friendship. With this new acquaintance, Waldan further developed his skills as a designer. Through his associations in the industry, Waldan soon gained access to the famous Rolex/Wilsdorf collection. He studied these timepieces with great attention to detail.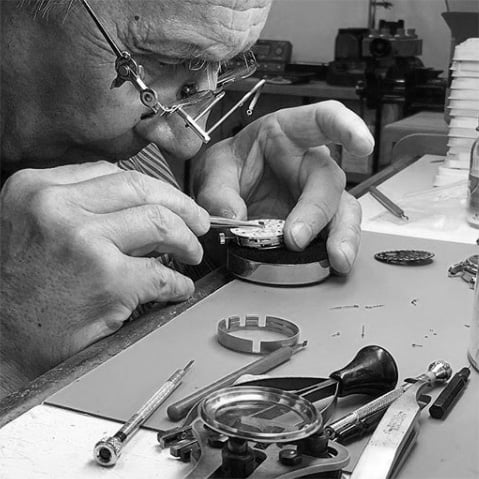 "This is where I cultivated my interest in antique watches, especially those with complicated mechanisms."
– Oscar Waldan
With his remarkable experience in the watchmaking industry driving him to influence the future of watches, Waldan began corresponding with different entities in the watch industry such as Adolphe Vallat, the former Commercial Director for Omega and Hans Homberger of IWC Schaffhausen and entered the field of consulting. While working with these entities, Waldan began submitting his own interpretations of the industry and his watch designs to them, which struck deep friendships that allowed Waldan special insight into watch manufacturing and production. By 1976, Waldan was known as a "shark" in the world of watch design, sales and manufacturing. He was well equipped with a great reputation, a vast knowledge of the watch industry and kept close relationships with his clients. At that point in his widely successful career, Waldan had a desire to evolve his consulting work into becoming a distribution agent. At the suggestion of Mr. Rene Denten, the former President of Rolex, Waldan reached out to Mr. Jack Keterer, the former President of Vacheron Constantin in an attempt to manage the distribution of Vacheron Constantin in the U.S market. The response he received was not favorable however it led Waldan to the mindset that his expertise and reputation should be more independently focused.
In 1979, Waldan founded and established Waldan International. He opened a watch factory in Bienne, Switzerland and a corporate office/repair center in New York City. With his newly established company, he aimed to produce beautiful and classically designed complicated mechanical watches. He chose to use materials of the highest quality and decided to concentrate his collection to watches made only of platinum, 18KT rose, white and yellow gold.
New Frontiers
In the late 1970's and early 1980's the arrival of Quartz Technology dramatically changed the world of watchmaking. Instead of embracing this technology, Waldan chose to further concentrate his efforts on complicated mechanical timepieces. He set out to produce high quality chronographs and other complications. Waldan purchased raw movements from some of Switzerland's finest manufacturers and decided to stock up on spare parts. He knew the value of stocking enough spare parts to repair the timepieces he was to produce.
"With the introduction of the quartz watch in the early 1970's, I decided to make unusual and complicated mechanical watches. I turned to the chronograph. At that point in time, there had been no chronograph moon-phase mechanical watches made in Switzerland for about ten years. I felt that collectors who wanted complicated mechanical watches or a watch with special features had to buy an old watch which had been used (and possibly abused) for many years. They rarely functioned well. I decided to make new mechanical luxury timepieces with special features."
During this time, very few chronograph watches were being produced in Switzerland. The quartz crisis had created a shift, in which quartz watches were being favored in place of automatic winding watches. Universal Geneve had liquidated all of their gold chronographs, which presented Waldan with the opportunity to purchase them at low cost and begin a campaign to revive the mechanical movement. His goal was to purchase the movements at low cost, and design a watch entirely around the movement, highlighting it as the primary feature of the watch without further modification.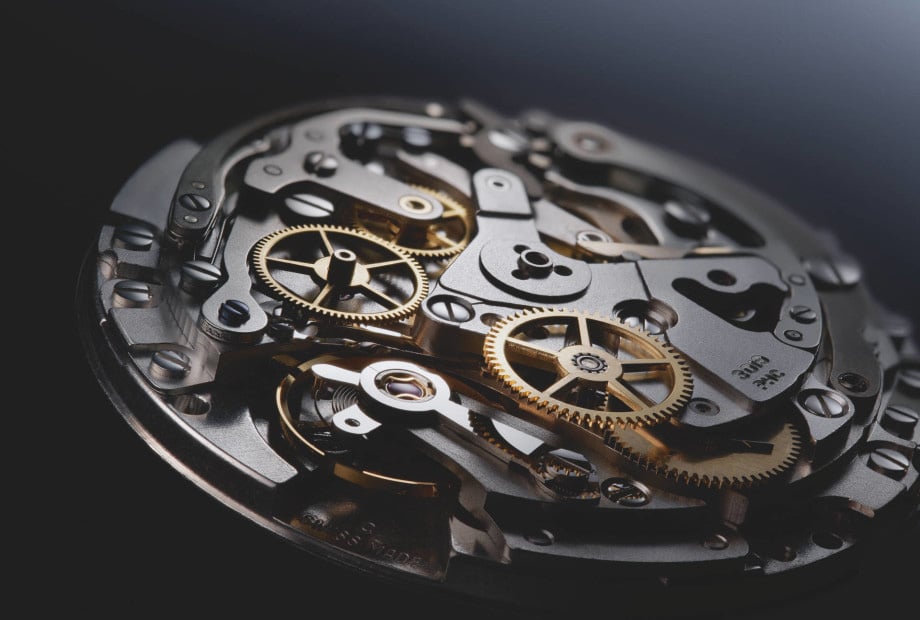 Soon after, Waldan learned that Zenith had thousands of 2522PC automatic chronograph movements, which they were unable to market. As Zenith had been recently sold to a radio corporation and by direction of new management was no longer going to pursue the production of mechanical movements, they closed down Zenith Martel in 1975 which halted all production of mechanical calibers by the brand, leaving what remained to either be scrapped or sold, including the 3019. "El Primero" caliber. The "El Primero" caliber is considered to be not only the first hi-beat automatic winding chronograph movement with the chronograph module fully integrated, but also one of the most historically significant movement calibers to ever be created. Waldan decided to purchase all of these movements and their moonphase chronograph movements with the intention of using them to launch his campaign to promote chronographs in Switzerland and the United States. This promotion successfully aroused curiosity and interest from his audience, however Waldan lacked the proper resources to fund the campaign. As a result, he met with one of his industry colleagues, Mr. Pierre Blum from Ebel with the intention of bringing him on board to aid him in participating in this endeavor to rouse interest in mechanical chronograph movements. As a result, Ebel purchased a large stock of the "El Primero" chronograph movements without moonphase and produced a new watch with this caliber. Waldan also met again with his friend Mr. Diether Kubel Wilsdorf from Rolex. Upon discovering that Rolex was looking for a modernized successor for the manual winding Valjoux 72 in the "Daytona" series of Rolex watches, Waldan enthusiastically showed him this hi-beat, automatic chronograph movement, convincing Rolex to acquire it. Mr. Wilsdorf expressed a great deal of interest in it, which led to Rolex undertaking the project of purchasing the cal. 3019. "El Primero" chronograph movements from Zenith and reworking them as the core of the new generation of Daytonas. Ultimately, chronograph watches made a notable return into the watch market. Companies all over Switzerland, some of whom had been out of business but "reborn" under new ownership, began producing chronographs. They even started mass-producing quartz chronographs.
"The watch I really liked was the Martel Zenith Movado automatic chronograph. Though the company had started to produce this movement in 1966, for some reason, most of them were never completed. The movement was vastly advanced and had many complications (additional features). I bought their inventory which was delivered in thousands of unassembled parts, all in small boxes."
Later on, Waldan managed to purchase 100 retro Valjoux 88 movements and produced 100 watches for Tiffany & Co. The watches were a profound success, and Waldan leveraged that success to produce another 100 watches with the famous 3019. PHF "El Primero" moonphase chronograph caliber under the Tiffany and Co., Tourneau and Ulysse Nardin names, resulting in a second success. At the time, Ulysse Nardin was not a fully registered name. Waldan had a contractual agreement with Mr. Schmidt from Ogival who also owned the name, to buy this name for a one year period with an option to fully purchase the company afterwards. Upon learning of the success of these timepieces, they associated the success to their brand name and refused to sell the company to Waldan, taking a position of "if you can do it, we can do it too". However, the success of these watches was in fact due to the classic design of the watch and the quality of the cases and dials.
"I felt that this chronograph (Zenith Movado automatic chronograph) could be made into a perpetual chronograph. I prepared drawings and plans and was ready to go into production. Unfortunately, I didn't have the necessary capital, so I turned the project over to Ebel, which began producing these watches in 1980."
In 1982, Waldan collaborated with Gerald Genta in making a new wrist repeater, a watch that rings the time at hours, quarters and minutes. At that time, wrist repeaters had not been made for over 35 years. With the success of these limited production collections, Waldan began producing larger private label collections for jewellers and watch companies, such as H.Stern, Tiffany & Co, Tourneau Neiman Marcus, secretly branding them on the insides of the cases with a hidden "Waldan Creations" hallmark which laid the foundation for the Waldan brand. In the early 2000's, over years of shifts in industry mechanics, Oscar sought to produce watches under his own name. He created a limited collection of timepieces, inspired by his life's experience in the watch industry, which were and are highly sought after by collectors worldwide.
AND SO THE TRADITION CONTINUES
For over 35 years now, Waldan International has produced wonderful timepieces for collectors around the world. Waldan has also produced timepieces for some of the finest jewelry stores in the world such as the "TIffany Classics" collection for Tiffany & Co and the "Waldan for Tourneau" Chronograph collection as well as quartz watch collections for Cartier and Neiman Marcus. The company is known to be one of the last few standing family owned companies in the watch industry. Waldan's approach to watches is unique, with the design being crafted in a traditional and purist manner, timeless in their appeal and carry on the tradition of fine watchmaking but utilize a more effective two tier system instead of having traditional middlemen play a role in the manufacturing. The resulting watches being exquisite in their appeal and rich in value.
"The technical aspects of horology are really interesting to me. I set out to create luxury timepieces that would have unusual but functional features; watches that would be, well, timeless. And, as such, be sought after by collectors."